The 'New Normal' of Vehicle Hygiene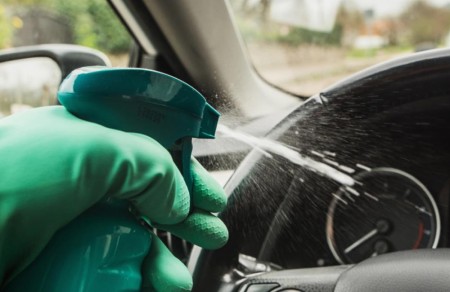 THE 'NEW NORMAL' OF VEHICLE HYGIENE BY Dr. RIKIN PATEL
COVID-19 has changed our world – including, of course, the auto industry. Vehicle hygiene has become a major point of emphasis. There is now an industry-wide commitment to consumer and team member safety. With car shoppers on high alert about potentially contracting coronavirus, there has never been a better time to prioritize vehicle sanitization and disinfection. While temporary cleaning solutions can offer a quick fix, a long-term method for sustainable vehicle hygiene has become essential to eliminating fear, winning customer trust and providing peace of mind to everyone, every time they get in a vehicle.
TRANSPORTING PEOPLE – AND GERMS
Vehicles have always been vectors for germs. On average, there are more than 700 strains of bacteria living in the interior of a car. According to a study conducted by Car Rentals LLC., the typical car interior is 2,144 times dirtier than the average smartphone, and steering wheels were found to be four times dirtier than a public toilet seat. While most of those bacteria are harmless, some can be dangerous – including Staphylococcus, which is responsible for food poisoning While it's vital to select sanitization and disinfection products that kill germs, bacteria and viruses, it's equally important to use products that have been used and tested in the automotive industry. Don't settle for just any off-the-shelf options, even if they offer immediate cost savings. Here are some things to consider in your product evaluation process. Sanitizing vs. disinfecting: What's the difference, and do people care? Cleaning is not disinfecting. Use products on the EPA approved list. Eco-conscious: What are the long-term effects of in-vehicle cleaning products on the environment? Vehicle- and people-friendly: What's the chemical makeup of the disinfectants? Will they harm the materials in the car – hard and soft surfaces – and the people they're designed to protect? Many disinfectants are pesticides and can be hazardous to your health. Longevity:Does it provide both surface and air protection, and for how long? Will it continue to kill on contact? Don't be fooled – no products can make that claim.
CONFIDENCE THROUGH EDUCATION
Education plays a significant role in the widespread acceptance of enhanced vehicle sanitization services. It's not only critical to building confidence and making consumers feel comfortable again but also offers dealers an opportunity to show leadership with a differentiated service offering. According to the 2020 Cox Automotive COVID-19 Consumer Impact Study, 83 percent of consumers said it's extremely or very important to disinfect vehicle surfaces after a test drive. Sixty-eight percent said it's extremely or very important to disinfect the air in the vehicle after a test drive. Explaining how you're treating vehicles at every touchpoint and the strict procedures you're following is essential. Why are you performing them? What product(s) are you using? Where are you applying those solutions? What process are you using to apply them?
EXPLORING WHAT WORKS FOR YOU
Various solutions are now being introduced across the industry, but it's important to select the option that best serves your needs. You can find products that provide vehicle disinfection and air cleanse protection, and services that sanitize, disinfect and protect an entire vehicle, including the interior cabin, A/C ventilation system, trunk and cargo areas. There are inexpensive and convenient do-it-yourself offerings that include high-volume enterprise solutions and individual vehicle kits featuring the products, supplies and training to safely disinfect and protect vehicles on your own. No matter what option you choose, make sure the solution provides an ongoing residual effect as opposed to only offering temporary protection. It should inhibit the growth of harmful odor-causing germs, mold and mildew for up to 30 days post-treatment – keeping vehicles protected for an extended period of time.
ACCEPTING THE INEVITABLE
Just like 9/11 made the travel industry rethink its security procedures, COVID-19 will lead to new disinfection processes focused on the overall well-being of vehicles and consumers. While many people scoffed at the increased and, at times, inconvenient security measures in airports, they soon became widely accepted. Only time will tell how long the COVID-19 pandemic will last and whether or not we'll see a second wave of the virus surface, but the "new normal" of vehicle hygiene is here.
Citation: Patel, R. (2020, July). THE 'NEW NORMAL' OF VEHICLE HYGIENE. Retrieved March 21, 2021, from https://www.usedcardealermagazine.com/uploads/dynamic_areas/IzzXLNApuUXbl4IHsZi8/32/The_New_EOA_0720.pdf